Traditional music and dance workshop | Auvergne - Centre France
From 4th to 6th November 2022
Conservatoire Arthur Honegger, Le Havre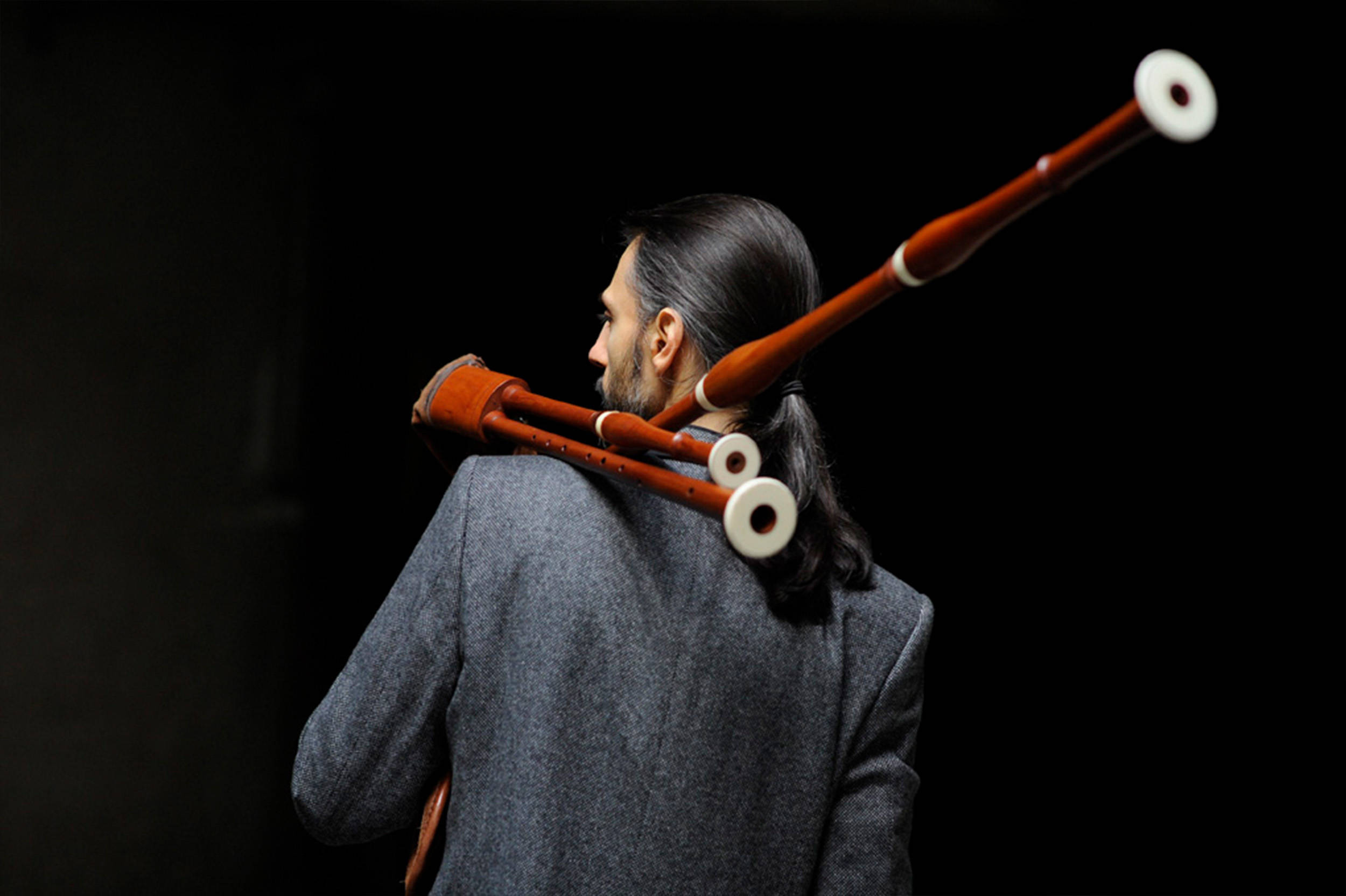 Presentation
This workshop is devoted to traditional music and dance from Auvergne and the center of France, with a musical opening to early repertoires (English or French baroque contredanse and Renaissance branles).
Teaching staff
François Lazarevitch : bagpipes 16 P.
Basile Brémaud : violin
Grégory Jolivet : hurdy-gurdy
Tiennet Simonnin : chromatic accordion
(Open to diatonic accordions)
Sarah Serec : traditional dance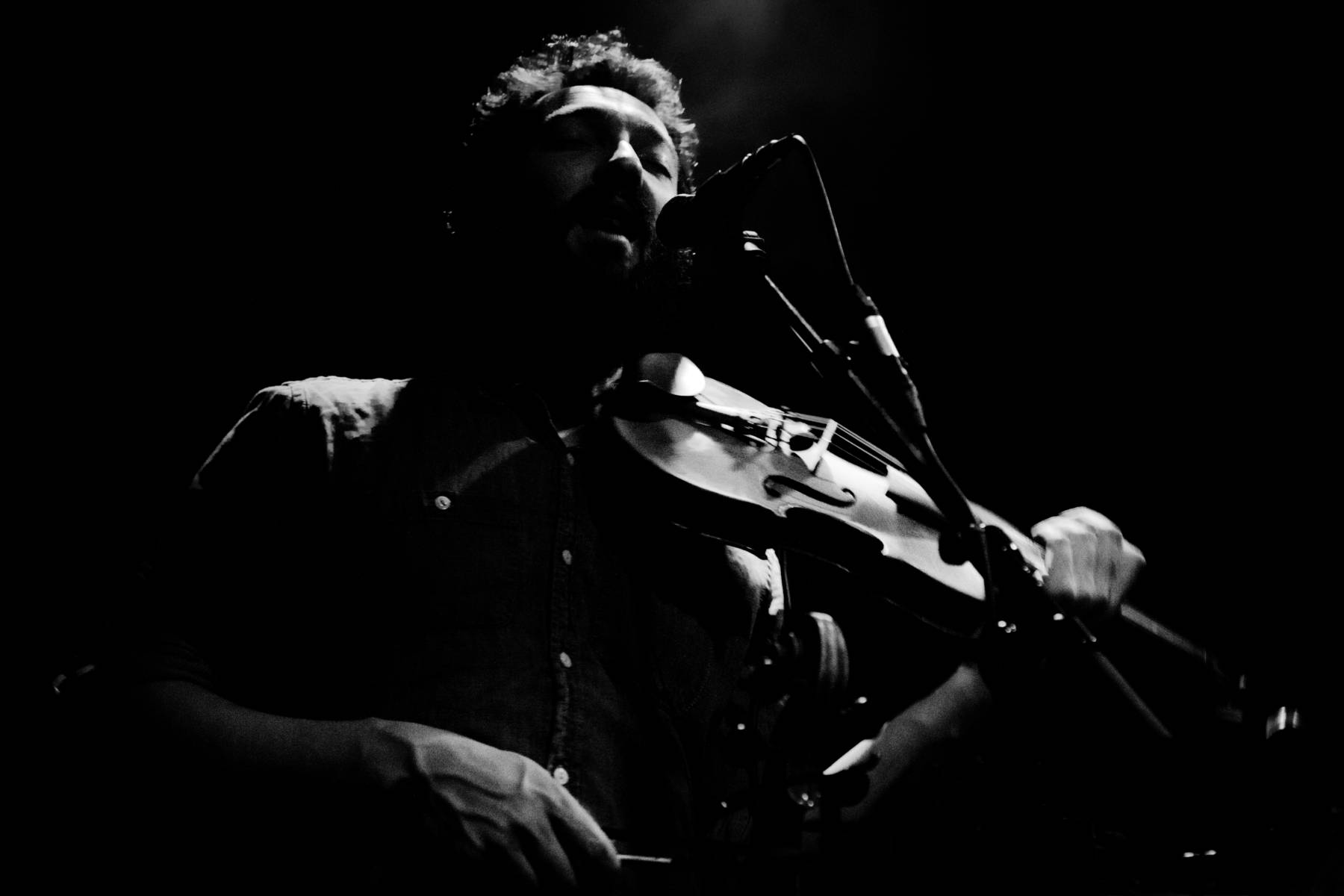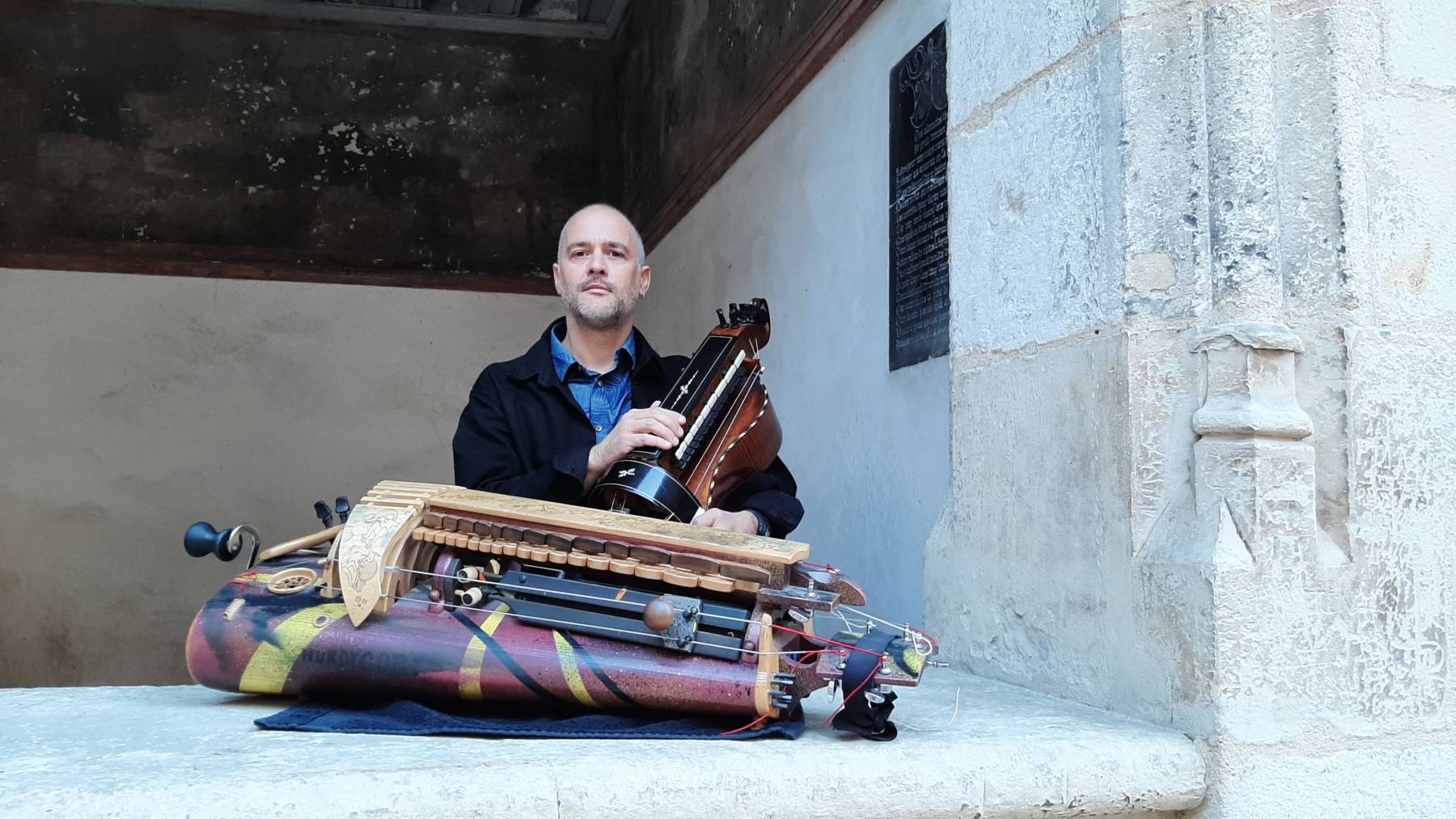 François Lazarevitch
Bagpipes
Artistic director of Les Musiciens de Saint-Julien, François Lazarevitch specialized in playing various French bagpipes, in particular the cabrette, the baroque musette and the musettes from the centre of France.
He has a degree (CA) in early music and another degree (DE) in traditional music, he teaches baroque transverse flute, the recorder, baroque musette and ornamentation at the Versailles conservatory. François Lazarevitch was made Chevalier of the Ordre des Arts et des Lettres in 2021.
Bagpipes workshop
The 16-inch bagpipe workshop focuses on Auvergne music and the different specifities of cabrette playing (rapping, picotages, fingerpicking), as well as on early repertoires, Renaissance branles in particular, which will allow us to play beautiful polyphonies. As it should be, we'll work on cadence, the variety of the phrasing and ornamentation.
Recordings and scores will be sent. We will play mainly by ear.
Prerequisite
Trainees must be equipped with a Centre France 16-inch bagpipe in G.
For some ensembles, 23-inch bagpipes are welcome.
Basile Brémaud
Traditional violin
Basile plays traditional music from the Massif Central (Auvergne, Limousin, Languedoc). He is deeply marked by the strength of this expression where singing, dancing and instrumental practice tend to become one.
Today he works on the question of the sound and energy present in this music. He experiments daily with how these elements translate into movement through the bal groups he co-founded (Duo Artense, TRES, Sorgues….).
He puts his practice into perspective with experimental music within the collective La Nòvia (Trio Puech/Gourdon/Brémaud, la Baracande, Maintes fois, l'Autre).
Basile holds a DE degree in traditional music teaching.
Violin workshop
In this workshop we will explore the rich music of the traditional fiddlers of Auvergne and Limousin.
We'll focus on the relationship between dance music and singing.
We will approach and experiment with the notions of cadence, support, accents, phrasing, articulations, ornamentation, sonorities…
We will work with the tools of orality, relying on listening, observation, impregnation and repetition. This approach will allow us to test our ability to vary our speech.

Grégory Jolivet
Traditional hurdy-gurdy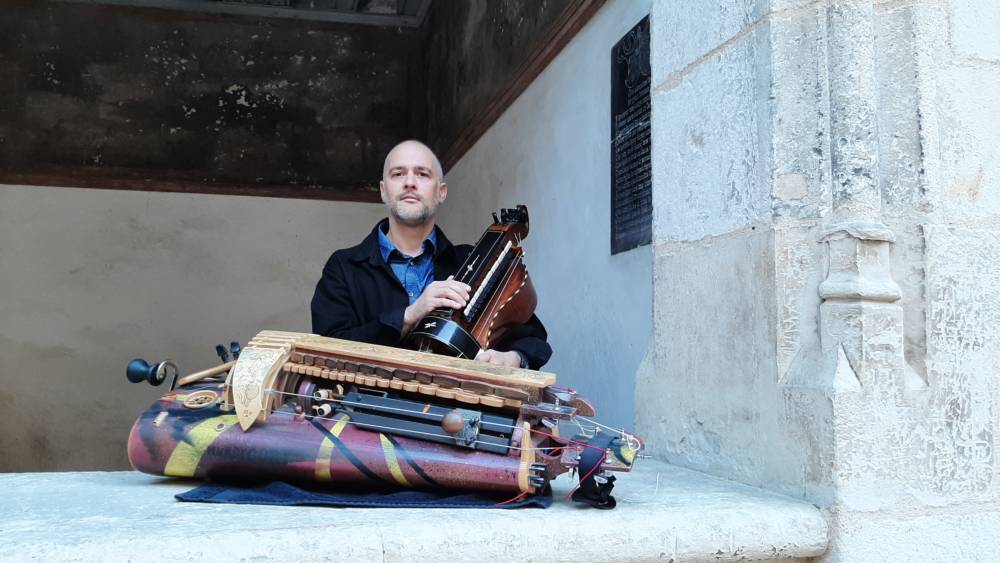 Grégory creates original music thanks to his electronic alto hurdy-gurdy designed by the luthier Philippe Mousnier. Trained at the Bourges Conservatory by Laurent Bitaud, he won several first prizes in solo competitions and obtained his DE degree in hurdy-gurdy teaching in 2004. Grégory has been enriching the practice of this instrument for a long time by developing "electro" techniques (tapping with one or two hands to free himself from the use of the wheel, use of effects, contemporary mode of playing) and evolves in the world of current music and world music. In 2016, his passion for freediving was born, he then put his feelings of the depths into music and gave birth to his new solo concert "Osmose" and the eponymous album released on 15 July 2020. He takes the audience on a journey to the edge of the oceans and the abyss. In 2021: the Grand Barouf album. L'Homme Debout will take people dancing through a Berry/Vendée/Poitou repertoire with Maxime Dancre on drums, François Robin on the veuze, and Julien Padovani on chromatic accordion. That same year, Grégory released an album on traditional music from his native region, Berry, while researching the cadence, different tunings of hurdy-gurdies to find a sound of this time and certain little known collections. Today, he continues to compose, as well as playing the acoustic and electric hurdy-gurdy. He navigates between several styles and is interested in variation, improvisation and old music.
Hurdy-gurdy workshop
During this workshop, we will play traditional melodies from Centre-France.
The repertoire will be composed of traditional dance pieces from Berry, Limousin, Nivernais, Auvergne and certainly some old music pieces, as well as one or two personal compositions from Grégory Jolivet.
An ensemble work will also be proposed.
We will work on the sound, the cadence, the variation, while taking time to listen to different collections and different instrumentalists to analyze and be inspired by their play, in order to restore various musical aesthetics. We will also be able to discuss different techniques and apply them to create a rhythm that is best suited to the dance.
This course will be an opportunity to work on a whole technical programme:
Rhythmic dissociation around the groove to be danced, technical work on the emission of the sound, rhythmic cells, improvement on the right hand fingering, use of the playing techniques (traditional or actual).
Expression of the melodic play of the left hand (ornamentation, trill, vibrato, counterpoint, variation, improvisation).
Work on the sound, the interpretation of the pieces (roundness of the sound, rhythmic support), playing in small groups during the workshops.
Work by music stand on the different technical characteristics of ensemble playing.
Breathing exercises and stretching (modules of 10 min max) adapted to your instrumental practice will also be proposed.
Level & Prerequisite
Possible tunings: soprano hurdy-gurdy G/C, alto hurdy-gurdy with extended keyboard in C, which will allow for additional voices in ensemble.
Recommended level: from the end of the 2nd cycle
mastery of the stroke of 3 and the stroke of 4
Tiennet Simonnin
Accordion
Immersed in Auvergne folklore since childhood, Tiennet Simonnin began playing the chromatic accordion in 1988. During his apprenticeship, he worked on a vast repertoire, ranging from Auvergne music to Irish music, but also classical and musette music.
His meeting with Michel Esbelin in 2007 has been a decisive moment in his practice and his knowledge of the Massif Central repertoire. Passionate about traditional dance music, Tiennet now plays mainly at balls, while varying the aesthetics (Duo Esbelin / Simonnin, Traucanèu, Duo TTC, Cadène, Les Papillons de Nuit…).
Accordion workshop
During this workshop, we will work sometimes on the old accordion styles in the music of the Massif Central, sometimes on the more current styles but still respectful of the cadence that we find in Auvergne ball today. We will listen to and quickly analyse a few representative recordings of this repertoire, and we will give priority to working orally, even if the use of scores is not excluded if particular needs are expressed.
We will approach these following points during our class :
generalities about fingering, phrasing, accents ;
techniques for ornamentation of the melody
vary the theme, notion of diminution / monnayage
concepts of swing and agogic
to introduce and conclude a bourrée
synchronisation and desynchronisation of the two hands, notion of hemiola
bass vocals
melodic and semi-melodic playing in the left hand
general principles of two-handed accompaniment with syncopation

Level & Prerequisite
All levels accepted except beginners.
Apart from the question of fingering, the different points we will deal with during this workshop concern all types of accordion.
People who play the diatonic accordion with a good capacity of autonomy are welcome. Scores and recordings will be sent before the workshop.
Sarah Serec
Traditional dance
Born in the Cantalien chestnut grove and living in Artense for 25 years, Sarah has been deeply attached to the traditions of the Auvergne since her childhood, and more particularly to dance and the three-beat bourrée. She naturally connects to things and to others and this takes shape and is anchored in her movements and her emotions in everyday life through past and present stories. Dynamic and optimistic, she remains involved in local cultural and solidarity associations.

From family dances to folklore, from traditional balls to musette dances, from concerts to festivals, her sensitivity and her itineraries have led her to create workshops, run courses, and produce shows on the bourrée and the ball. With each experience, Sarah likes to reveal with her partners the notions that are essential to her heart: rhythm, energy, style, play and musicality.

Today, as an assertive dancer with a personalised style and as a transmitter of traditional dances, Sarah remains convinced that stretching time and anticipating the next one gives the necessary and indispensable energy in dance as in life, that it is necessary to know how to blur the strong times, to create variations of intentions and fluctuations of expressions, to make the silences speak, to remain natural, readable and attentive. With this in mind, she endeavours to share her experiences, her practice and her vision of this heritage rooted in her by ordinary everyday people made extraordinary over time by their lives, their music and their dances. She tells stories, encounters and emotions, memory, landscape, space and time in these steps.

A.O.C. : Autodidacte d'Origine Cantalouse
(Self-taught from Cantaloupe)
Traditional dance workshop
Quau te mena ? … Qua dançar !
Faï entrar : Dancing the waltz, mazurka, polka, piquée, march, jig, contredanse! It means learning to observe, listen, repeat, and impregnate the substance of all dances: the cadence. It also means acquiring the vocabulary and material that will enable us to understand and share these dances in the music/dance relationship, individually, in couples and collectively. It means assimilating the supports, phrasing, ornaments, accents, movements, balances and integrating them, interpreting them, transmitting them with naturalness and accuracy.
Faï sentir : The Cantalien accent will be put on the usual forms of ballroom dancing by ancient figures from the oral tradition. The ball will thus take on the flavours and aromas of the Auvergne at leisure. Guiding and following in energy, commitment and posture will also be angles of approach that will allow you to let your singularities and personalities emerge.
Faï tustar : Dancing the bourrée! A part will be dedicated to the three-beat bourrée from Auvergne and its surrounding countries. This beautiful wild dance, full of fire and finesse, with which everything can be played out in the infinity of emotions, will infuse you with role-playing, body percussion and song. In simple and sophisticated forms, from the individual to the collective, in the vertigo of improvisation and the content of writing, in the reliefs and phrasing, in the articulations and latitudes, she will reveal her secrets to you.
Faï anar : To those who understand it, it will speak of the country, of life and of feelings. The bourrée seems rustic and wild, yet it is enough to approach it with sincerity and sensitivity to realise that it has the power to transcend people and time. More than a dance, the bourrée is a lesson in life!
Faï jogar : The Auvergne dance music will be interpreted by Dominique PARIS, master cabrettist, whose cadence and play are generously placed at the service of the dance.
Faï dançar : As you are, whatever your age & practice, come and cadence!

« Il faut donc savoir entendre sa musique propre pour pouvoir écouter celle des autres. Et le bal prend son sens lorsque chaque élément qui le constitue s'accorde aux autres avec à l'esprit unité et harmonie. » …Aquelh que n'aima pas de dançar conèis pas lo plaser de viure !

Musical Events
November 5th 2022
Traditional bal
Samedi 5 novembre | 20h30
TRADITIONAL BAL AUVERGNE CENTRE-FRANCE
Salle Franklin, Rue Dumé d'Aplemont, 76600 Le Havre
by the artists-teachers

Bal : Free entrance – Free participation
Reservation is mandatory
By mail : academie@lesmusiciensdesaintjulien.fr
By phone : +33 (0)9 81 18 57 45
Informations
The traditional music and dance course takes place at the Arthur Honegger Conservatory in Le Havre.

Schedule
Friday, November 4th
from 8h30 to 9h30 am. : welcome the trainees

Friday 4th and saturday 5th of november
9h30 to 12h30 am. – 2pm to 6pm : workshops and lessons

Sunday, November 6th
9h30 to 12h30 am. – 2pm to 4pm : workshops and lessons ;
4pm to 6pm : convivial moment of musical sharing will be proposed with all the trainees.

Location
Conservatoire Arthur Honegger
70 Cours de la République
76600 Le Havre
Access
Autoroute/Highway A13 or A29 : Le Havre exit
Parking behind the conservatory – around 6 € / day
Train : from the Saint-Lazare train station, line : Paris > Le Havre
Think about carpooling!

Accommodation and catering
Numerous affordable accommodation & catering options available near the conservatory.
You can download the hotel and catering lists below.
Cost
Training fees (3 jours) : 160 € including VAT
Ball included.
Annual membership fee to the association: 18 € incl. VAT
To participate in this course, annual membership of the Académie des Musiciens de Saint-Julien is required.
Registration
Registration: coming soon!
You need the teacher's consent so your registration to be officially validated.
For more informations
Phone : +33 (0)9 81 18 57 45
Email : academie@lesmusiciensdesaintjulien.fr
Address :
L'Académie des Musiciens de Saint-Julien – 86 rue Lesueur – 76600 Le Havre
Partners
The Académie des Musiciens de Saint-Julien would like to thank the Caisse des dépôts, the City of Le Havre, the Arthur Honegger Conservatory, the Atelier Marc Ducornet and the University of Rouen for their support.
Les Musiciens de Saint-Julien are in residence at Le Volcan, scène nationale du Havre. They are subsidised by the Ministry of Culture – DRAC of Normandy & the Normandy Region. They are supported by the City of Le Havre.