Musique française des XVIIe et XVIIIe siècles | partition
Excerpts from Et la fleur vole, À l'ombre d'un ormeau, Le Berger poète
This second volume of our collection is devoted to French music of the 17th and 18th centuries. This score is a compilation of excerpts from three CD of the Musicians of Saint-Julien "Et la fleur vole" (Alpha 167), "À l'ombre d'un ormeau" (Alpha 115), "Le Berger poète" (Alpha 332).
The style of the melodies and of their accompaniment makes them easily adaptable for playing on any instruments, make it a perfect teaching material.
For the sake of coherence and elegance, a musical typography was created for this edition by Pierre Séchet, recalling the graphic aspect of scores printed in the 18th century. In addition, the typeface used is Rameau, designed by Sarah Lazarevic based on an engraved edition of a lyric work by J.P. Rameau.
Discipline & instrument High voice and all instruments
Arrangements & variations François Lazarevitch
Format 22 x 31 cm
Number of pages 40
Languages French & English
Éditions Éditions des Musiciens de Saint-Julien
The partition is available on our website.
It is also available in the following shops :
In France ;
Woodbrass.com, 7-15 avenue du Nouveau Conservatoire, 75019 Paris
Librairie Musicale ORFEO, 30 rue de la Chaîne, 86000 Poitiers
Librairie A Cappella, 3 quai Jean Moulin, 69202 Lyon
In Spain :
ARS ANTIQVA, c/ de la Independencia, 2, 28013 Madrid
Photos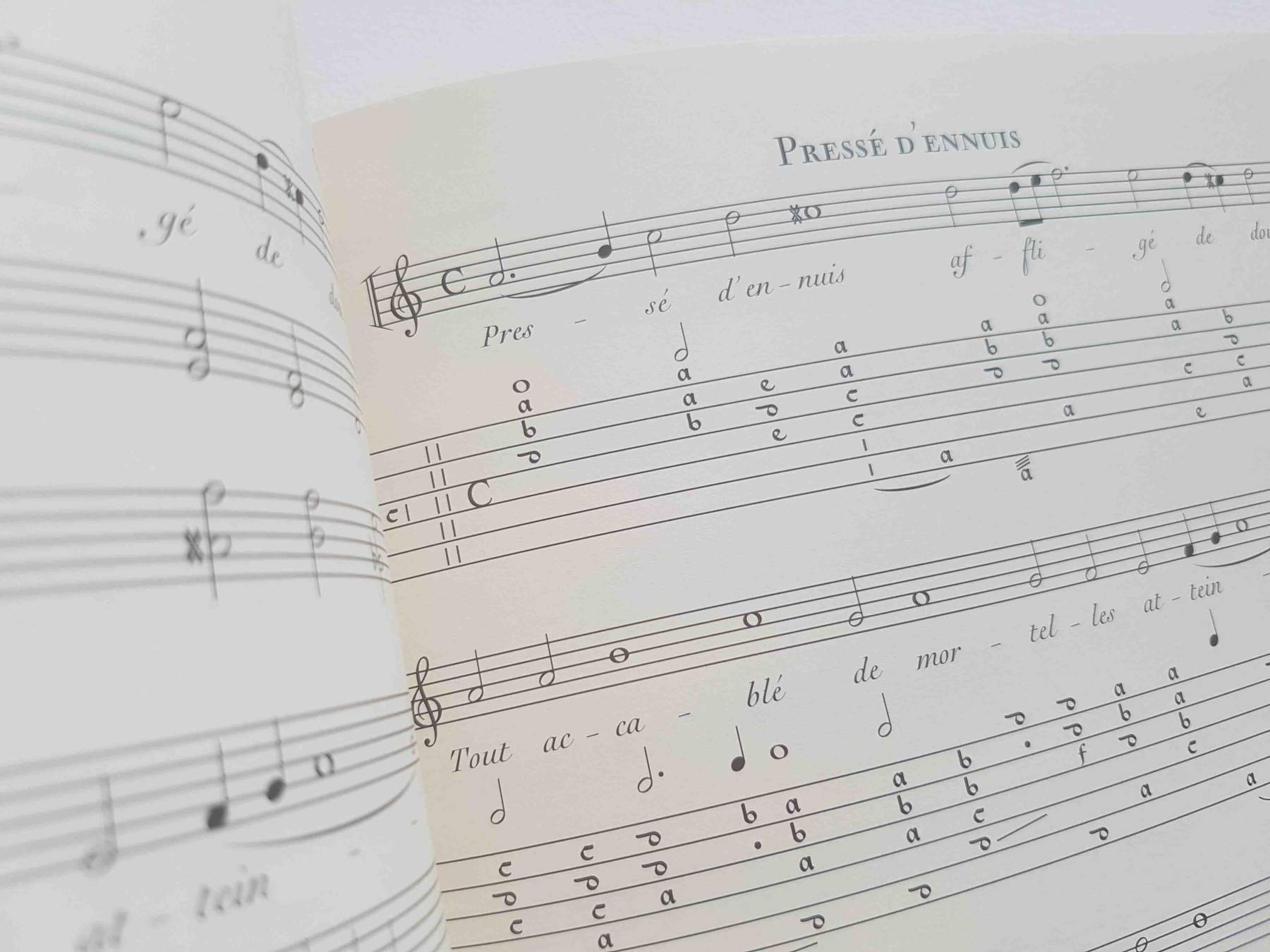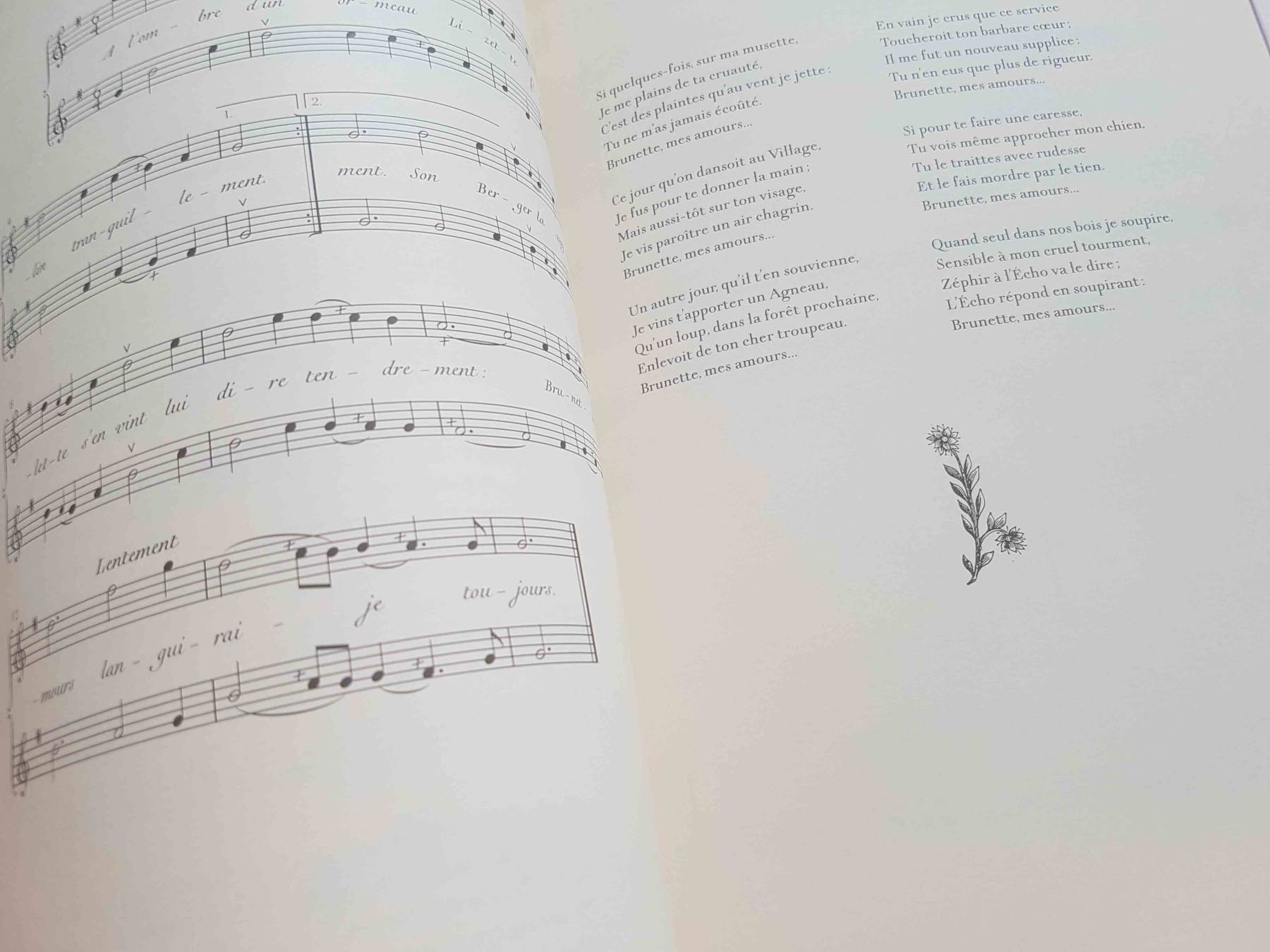 Sommaire
ET LA FLEUR VOLE
Et la fleur vole
La Bourrée
Les Passepiedz de Bretaigne
Sortés soupirs (voix clavier)
Sortés soupirs (voix tablature)
Pressé d'ennuis (voix clavier)
Pressé d'ennuis (voix tablature)
Pressé d'ennuis (double)
J'ay un oyseau
Rosette pour un peu d'absence
J'estois bien malheureuse
Tandis que je m'arreste
À L'OMBRE D'UN ORMEAU
À l'ombre d'un Ormeau
Bobbing Jœ – Excuse me
Red House
Pourquoy doux Rossignol
La Fürstemberg
J'ai du bon tabac – Menuet d'Isis – Menuet d'Alcide
Menuet à quatre
J'avais crû qu'en vous aymant
Le Sabotier
LE BERGER POÈTE
Plainte d'Iphise
Les Bergeries de M. Couprin
Le Rossignol -en- Amour
Double du Rossignol
Musette de M. Rebel