Vivaldi, Le Souffle des saisons
Concertos for flute, recorder and Baroque musette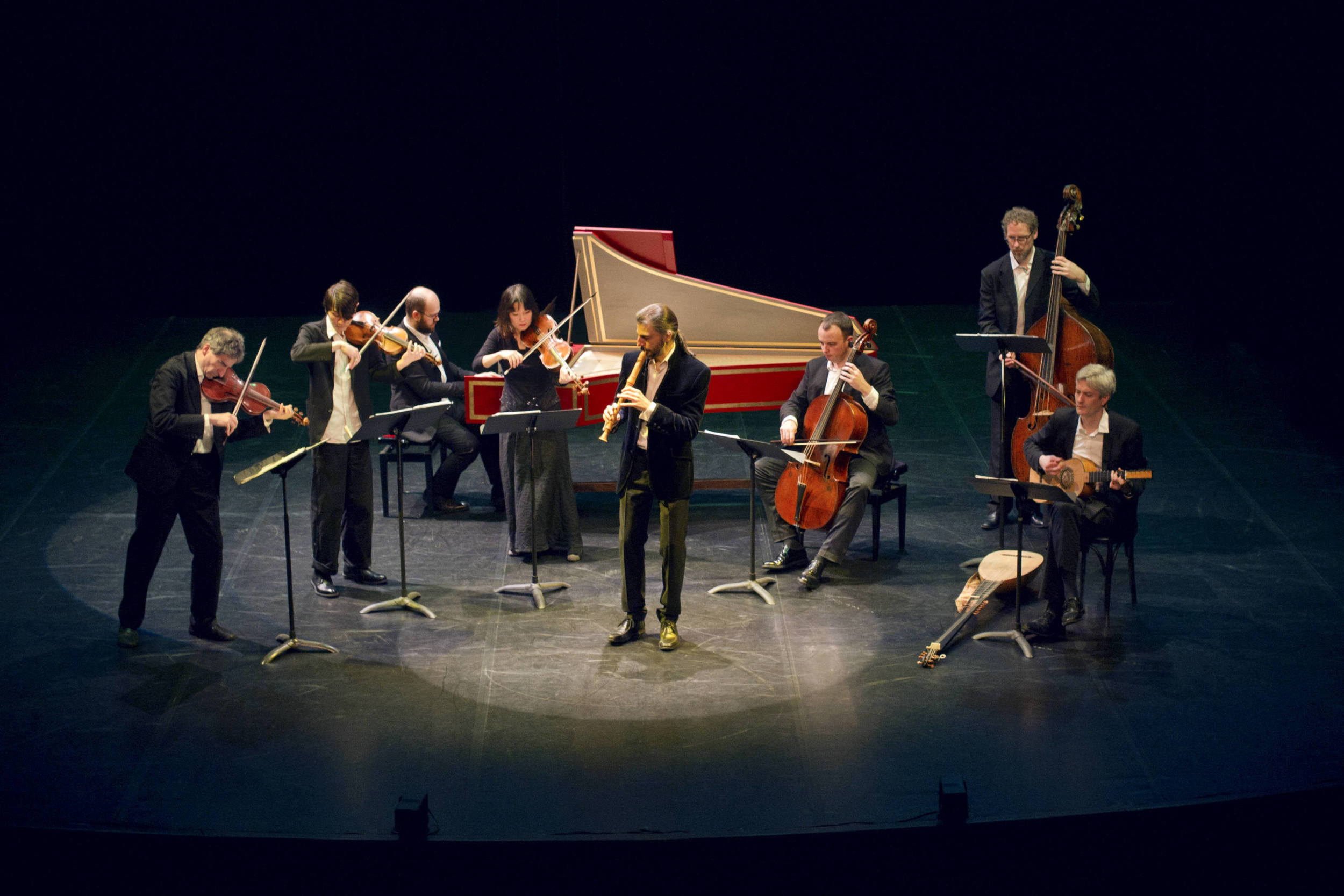 Description
Disc

Vivaldi, Le Quattro stagioni
Inspired by Nicolas Chédeville's adaptation for the musette of The Four Seasons, François Lazarevitch and Les Musiciens de Saint-Julien breathe delightful energy into and revive the colours of seven of Vivaldi's concertos that take nature as their subject.
The originality and impressive alternation of the solo instruments, all played by François Lazarevitch, constitute the first metamorphosis in this atypical version of The Four Seasons. Spring is played on the musette, as in Nicolas Chédeville's fanciful but nevertheless demanding version of 1739, while the other three concertos, adapted from the originals for strings, are performed on transverse flutes and recorders. Despite the different instrumental timbres, none of the velocity and inventiveness of Vivaldi's originals has been lost, and all their subtleties and contrasts are depicted as he intended.
All of these concertos, revisited by Les Musiciens de Saint-Julien, are presented in a festive new rendering, in the light of their leader's knowledge of early music and the art of phrasing, and his familiarity with traditional music. Going beyond the descriptive programmes and the popularity of these works, the musicians enable us to hear as if with new ears the dancing of the shepherds, the unleashing of the elements or the peasants celebrating with song and dance the harvest safely gathered in. Through the singular, eloquent voice of a soloist, Italy at the time of Vivaldi is combined with the Versailles of Louis XV, when the musette was the queen of instruments. Scores we thought we knew are transfigured.
The CD is available – Alpha Classics label
8 musicians
François Lazarevitch, transverse flute / recorder / Baroque musette
Instruments
2 violins, viola, cello, double bass, theorbo/Baroque guitar, harpsichord
Contact diffusion for France:
Les Concerts parisiens
Vincent Lafourcade
vincent@concertsparisiens.fr
+33 (0)1 48 24 16 97 / +33 (0)7 60 02 56 16
« Naturalness in joy, pleasure with a constantly solar and sedate song. François Lazarevitch leads his Gardellino resolutely, treating himself and us to a luxuriant flute that rises up freely in the midst of his musicians. Vivaldi as we love him. »

La Tribune des critiques de disques
France Musique, Sunday 13 December 2020
Vivaldi, Le Quattro stagioni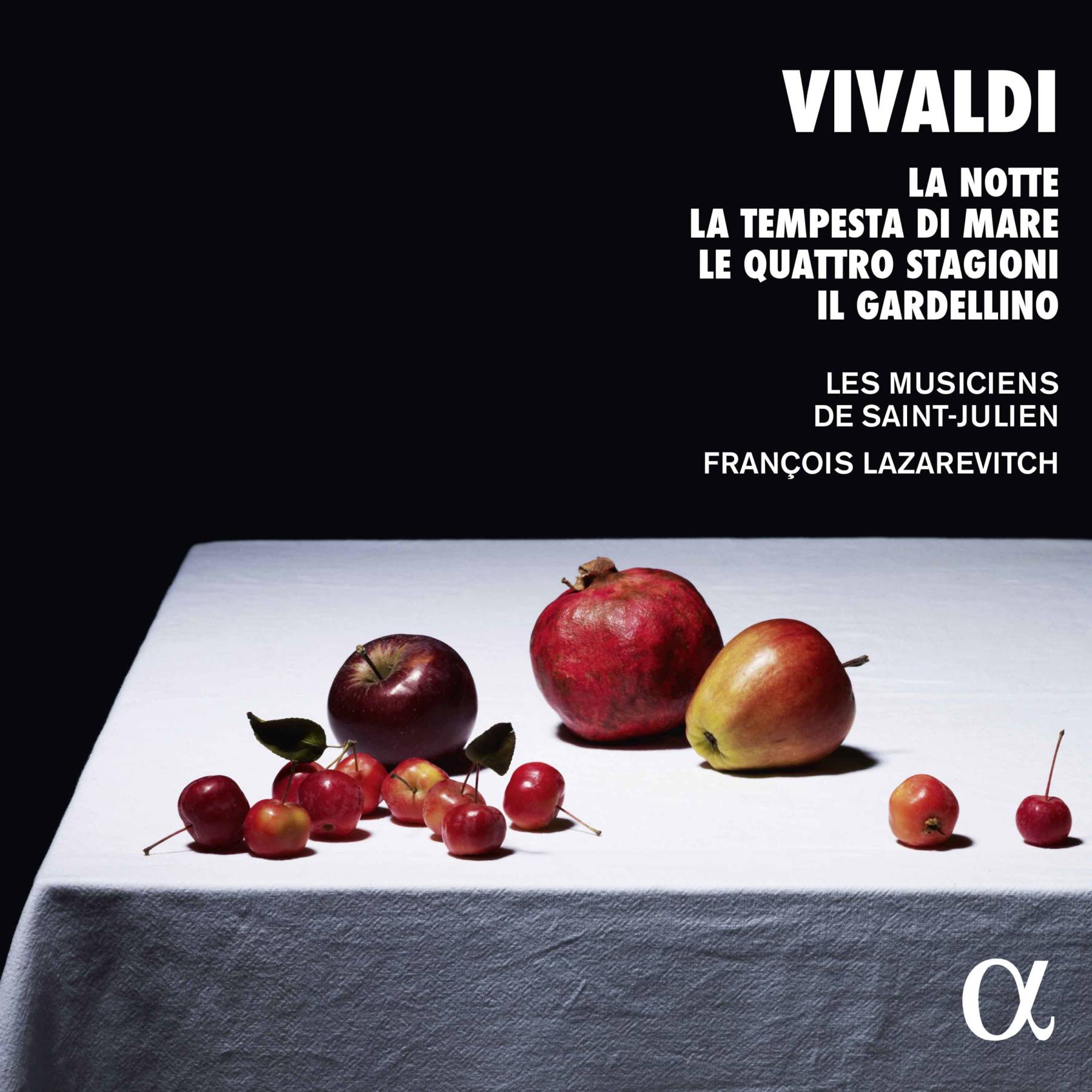 Alpha classics • Alpha 281 • ISBN 3760014192814 • 1 CD • 1 h 02
Concerto in F Major 'La Tempesta di Mare' – II.Largo (1:38)

Concerto in F Major 'La Tempesta di Mare' – III.Presto (2:04)

Concerto in D Major 'Il Gardellino' – I.Allegro (3:49)

Concerto in D Major 'Il Gardellino' – II.Cantabile (3:11)

Concerto in D Major 'Il Gardellino' – III.Allegro (2:57)

Concerto in C Major 'Le Quattro Stagioni – La Primavera' – II.Adagio sempre piano (2:24)

Concerto in C Major 'Le Quattro Stagioni – La Primavera' – III.Pastorello Allegro (3:39)

Concerto in C Major 'Le Quattro Stagioni – L'Estate' – I.Allegro non molto (4:46)

Concerto in C Major 'Le Quattro Stagioni – L'Estate' – II.Adagio (2:16)

Concerto in C Major 'Le Quattro Stagioni – L'Autunno' – I.Allegro (4:51)

Concerto in C Major 'Le Quattro Stagioni – L'Autunno' – II.Largo (2:10)

Concerto in C Major 'Le Quattro Stagioni – L'Autunno' – III.Allegro (3:09)

Concerto in C Major 'Le Quattro Stagioni – L'Inverno' – I.Allegro non molto (3:18)

Concerto in C Major 'Le Quattro Stagioni – L'Inverno' – III.Allegro (3:20)

Concerto in G Minor 'La Notte' – I.Largo (1:49)

Concerto in G Minor 'La Notte' – II.Presto (Fantasmi) (0:47)

Concerto in G Minor 'La Notte' – III.Largo (1:06)

Concerto in G Minor 'La Notte' – IV.Presto (0:57)

Concerto in G Minor 'La Notte' – V.Largo (Il sonno) (1:16)

Concerto in G Minor 'La Notte' – VI.Allegro (1:57)
Programme
La Tempesta di Mare Concerto en fa majeur op 10 n°1, RV 433
pour flûte à bec alto, cordes et basse continue
Allegro – Largo – Presto
Le Printemps concerto en do majeur pour musette, deux violons et basse continue
Arrangement de Nicolas Chédeville
Allegro – Adagio sempre piano – Pastorello Allegro
L'Été concerto en sol mineur op. 8 n°2 pour flûte traversière, cordes et basse continue
Allegro non Molto – Adagio – Presto
L'Automne concerto en fa majeur op. 8 n°3 pour flûte traversière, cordes et basse continue
Allegro – Largo – Allegro
L'Hiver concerto en fa mineur op. 8 n°4 pour flûte traversière, cordes et basse continue
Allegro non Molto – Largo – Allegro
La Notte Concerto en sol mineur op. 10 n°2 RV 439 pour flûte à bec, cordes et basse continue
Largo – Presto (Fantasmi) – Largo – Presto – Largo (Il sonno) – Allegro
Press
2017
Classics Today
Jens F. Laurson
This disc opens with terrific, riveting interpretations of famous Vivaldi concertos "La Tempesta di Mare" and "Il Gardellino" – performances that absolutely fly off the page thanks to Jeremy Irons look-alike François Lazarevitch directing his band Les Musiciens de Saint-Julien while playing…
Discover our other programs